Modular Construction in the Bay Area: The Future Is Now
Published On August 3, 2017
This post originally appeared on the ULI San Francisco Blog on August 2, 2017.
After years of abstract discussions and false starts, modular building may finally be gaining the momentum it needs to make an impact in the Bay Area. Why now? And why here? On Tuesday, July 18, the San Francisco District Council of the Urban Land Institute hosted "Modular Construction in the Bay Area: The Future is Now", an event moderated by Terner Center for Housing Innovation Faculty Director Carol Galante. The panel discussion featured four leaders committed to bringing this innovative housing method to scale in the Bay Area: Developers Rick Holliday of Holliday Development, Fei Tsen of Windflower Properties, Cannon Construction Principal Larry Pace, and Northern California Regional Carpenters Regional Council Representative Jay Bradshaw. They explored why modular construction is poised to take off in the Bay Area. A frank discussion revealed key challenges and lessons and learned, and their thoughts about the future of the industry.
For years, the Bay Area has faced a severe housing shortage and soaring housing costs. Though the causes of this crisis are multifaceted, construction costs are a key part of the equation, and traditional methods of building will not solve the affordability challenges the area is facing. Panelists agreed the urgency of the present housing crisis is a driving factor in experimenting with modular construction.
The benefits of modular construction – detailed in a March 2017 paper from the Terner Center – include reductions in construction cost by at least 20 percent, shortening of construction time by up to 40%, and minimization of impacts on the neighborhood surrounding construction sites.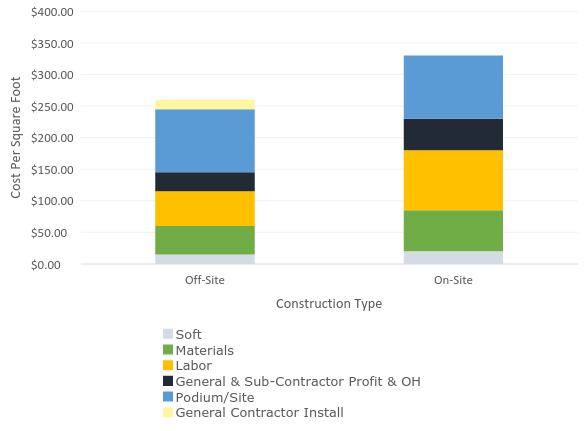 The finished product doesn't sacrifice quality or customizability and in many cases is indistinguishable from traditional building. Personal testimony from panelists as well as images of their completed projects showed why they and their partners, financial backers, and others involved in the building process were won over by modular.
But as the saying goes, if it were easy to reap these benefits, somebody would have done it by now. There are several barriers, some physical and some mental, that need to be overcome before modular can become a larger share of building activity.
The construction industry suffers from inertia and skepticism related to the adoption of new technologies and methods. Fei Tsen noted that the construction industry has traditionally been slow to embrace change. She and other panelists expressed the belief that once a few initial projects demonstrated the high quality of projects and the benefits of modular methods, the rate of adoption will likely speed up. In Tsen's experience, proactive educational outreach and visits to the manufacturing site were key steps in winning over stakeholders, including those from the public sector and finance communities.
Beyond the initial educational hurdles, the track record of previous modular projects includes several examples that give builders, developers, and others legitimate pause. Over the years, several modular companies have lacked viable business models and were unable to survive the cyclical nature of the housing development market. Logistical challenges have also come with the transportation and installation of modular units. Designers have struggled to adapt the unit design process for modular building, and there have been some notable quality control challenges. Lastly, high upfront costs can make projects challenging for nonprofit developers and below-market rate projects without adjustments to the current financing structures.
The impact of modular construction on labor was a hot topic. Modular construction can provide more reliable and well-paying jobs. Jay Bradshaw, who represents members of the Carpenters Union, perceives growth in modular a promising opportunity for better and different workforce training and employment for members of his union and other unions. The Carpenter's Union is one of the few unions that has directly engaged with modular development, but they believe as the techniques are adopted more unions will engage as well.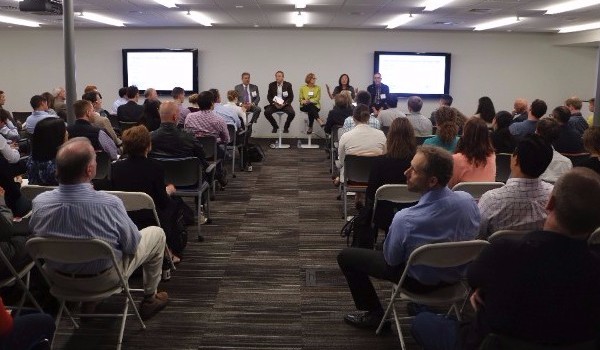 To close panelists were asked to share thoughts on the future of the industry.  All enthusiastically agreed that the benefits far outweigh the challenges, and they'd like to see this innovation expand. While not every project should be built offsite, and there will always be a role for traditional building, but the modular is likely to become a viable option for more projects. It will play a major role in increasing the supply and decreasing the cost of housing, provided that some of the current barriers are overcome. All expressed a desire for more entrants in the modular industry, to build the ecosystem and make this innovation more competitive. Rick Holliday, who is in the process of launching his own modular development company, Factory_OS with Larry Pace, said he wants the industry to grow and he welcomes competition in Northern California. Holliday and Pace were motivated to open Factory_OS not only as a business opportunity but as a pathway to addressing the growing lack of affordability in the United States housing market and to combat underemployment in the Bay Area. More modular units being built will mean more good jobs and more housing units at a more affordable price, a true win-win.
Modular development has already begun to show its worth in time and money savings. These benefits will only grow as more players (modular builders, developers, contractors, and others) enter this field. Cumulative experience and economies of scale within and across companies will allow modular building to maximize all of the efficiency gains and cost savings that it has the potential to provide.
Share This Post: