UC Berkeley Symposium Showcases Lessons Learned from the State of California's Excess Lands For Housing Initiative
Published On June 3, 2022
Overview
This year's James R. Boyce Affordable Housing Studio Symposium, held on May 4, 2022, spotlighted the State of California's ongoing efforts to redevelop state-owned excess lands for affordable housing. The full-day event at the Bancroft Hotel at UC Berkeley brought together developers, city officials, architects, state officials, and graduate students from a range of disciplinary backgrounds to reflect on the opportunities and challenges of the excess lands program, now in its third year of implementation. 
The State's property holdings represent 2.9 million acres, an amount of land equivalent to the entirety of Los Angeles County. To date, 690 state properties have been identified as potentially suitable for affordable housing and 19 of them have been awarded to developers for purposes of redevelopment. These state-owned parcels represent a unique opportunity to deliver more housing as the state is not seeking to raise any revenue from sale or lease development and developers are able to bypass traditional project review processes that can otherwise stymie or stall worthwhile projects (state-owned lands are not necessarily subject to local zoning restrictions or development impact fees and the State may perform its own CEQA and building code review). 
Panel
The symposium began with a panel discussion of the experiences of professionals in the field working on developments through the state-owned excess lands. The panel participants included three UC Berkeley Master of City Planning (MCP) alumni who had took the Boyce studio course in 2020 and are now supporting the excess lands program: Beatriz Sofia Stambuk-Torres (LeSar Development Consultants), Mona Al-Abadi (California HCD), and Michael Coulom (California HCD). The panel was moderated by Meea Kang, UC Berkeley Master of Architecture Alumna and Senior Vice President of Development for Related California.
Keynote Remarks
Sasha Wisotsky-Kergan, Deputy Secretary of Housing at the Business Consumer Services and Housing Agency, provided a keynote address. Wisotsky-Kergan described her work launching the program in 2019 and described the State's commitment to continuing to build on early successes. Lori O'Camb with the James R. Boyce Family Foundation also reflected on the benefits of the studio as it relates to growing the next generation of engaged professionals. 
Student Presentations
Six student groups presented their proposals for affordable housing developments sited on two potential sites: one on an underutilized CalTrans site in Downtown Santa Cruz and the other on undeveloped Department of Corrections land adjoining a residential neighborhood in Folsom. Both sites had been identified as possible affordable housing opportunities but had not been subject by the State to due diligence to assess their viability for disposition. Student proposals were reviewed by juries comprising leading development, design, and planning professionals: Carol Galante with Terner Center for Housing Innovation, Lillian Lew-Hailer with Mercy Housing, Melanie Mintz with the City of El Cerrito, Yakuh Askew with Y.A. Studio, E.B. Min with Min Design, and Paulett Taggart with PTA.
Highlighted below are the winning proposals for each of the two sites.
Team Members: Ziyao Geng (MArch), Martine Kushner (MCP), Olivisa Lavecchia (MCP), Shiying Wang (MCP), and Hanyi Zhang (MArch)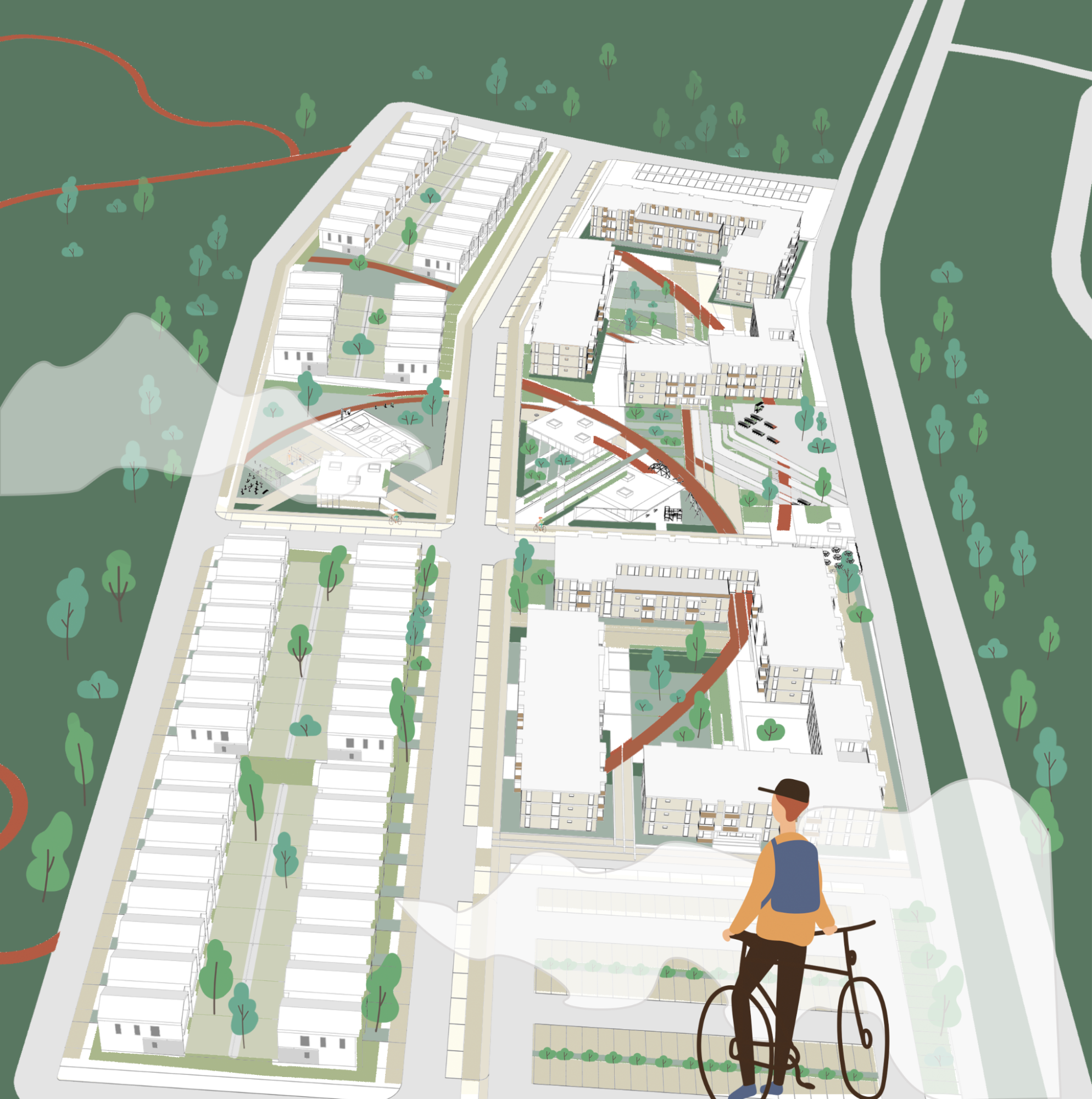 Folsom Greens proposed to build a high-quality, high-opportunity, and mixed-income community that will be developed on state-owned land in the northeast of the City of Folsom. Folsom Greens is defined by strategies to 1) contain costs—thereby delivering more affordable housing, and more quickly, in a community that badly needs it—and 2) deliver services, amenities, and connections that result in a high quality of life for its residents. The proposal offered 202 affordable rental units serving households earning between 30 and 60 percent of Area Median Income (AMI) alongside 62 market-rate townhomes. 
Team Members: Elaine Forbush (MArch), Amelia Goldrup (MArch), John Maher (MBA), and Michelle Williams (MCP)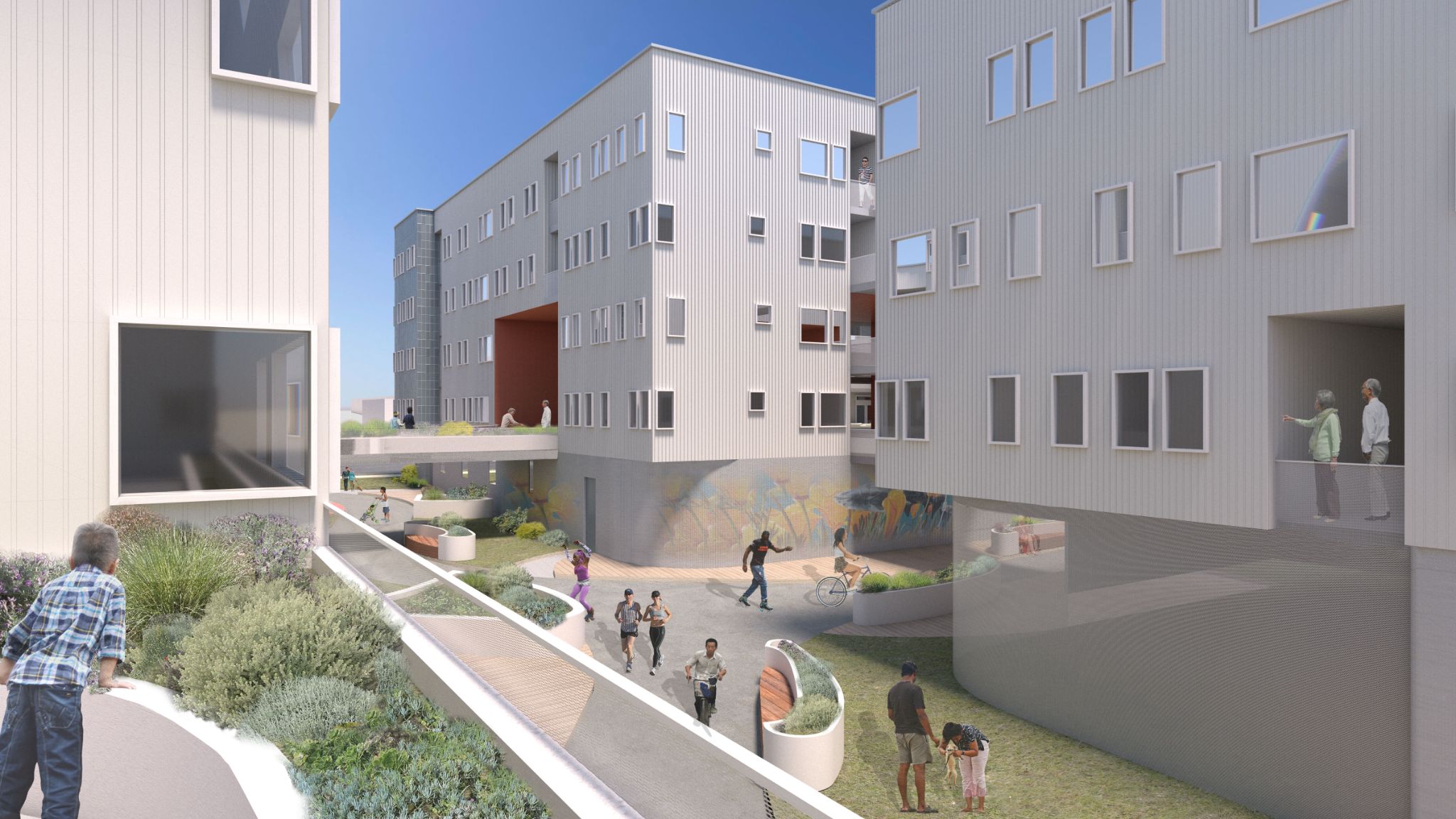 Riverstone Homes was proposed to create affordable housing in Santa Cruz that would serve as a foundation for community health, environmental health, and social connectivity. The team's primary focus was housing for mixed-income families with other supplementary services made possible through community partnerships. The housing would target mixed-income families earning between 30 and 80 percent of AMI, with an average AMI of 47 percent across all 229 units on the site. The first and largest phase of  the project will provide housing to a range of household sizes at incomes ranging from 30 to 60 percent AMI, and the second and smaller phase will provide housing to a similar range of household sizes at incomes ranging from 30 to 80 percent AMI.
Blog post authored by Terner Center Managing Director and Adjunct Professor Ben Metcalf and Boyce Studio Teaching Assistant Robert Feign (Master of City Planning 2022). Co-instructors Daniel Simons and Cristina Rossi of David Baker+Partners Architects and Claire Parisa of California Housing Partnership joined Ben Metcalf in overseeing the semester-long studio. 
Share This Post: