UC Berkeley Symposium Showcases New Opportunities for Affordable Housing in Higher Opportunity California Communities
Published On June 5, 2023
Overview
This year's James R. Boyce Affordable Housing Studio Symposium, held on May 4, 2023, featured proposals for affordable housing development on city-owned parcels in Menlo Park and Piedmont, California. The full-day event at UC Berkeley's Bauer Wurster Hall Gallery brought together graduate students, public officials, architects, and housing developers to discuss how high-opportunity, historically exclusive California cities can increase their affordable housing production. The event was the culmination of a semester-long studio course for UC Berkeley graduate students across disciplines to focus on planning the development of an affordable housing project proposal.
Menlo Park and Piedmont were chosen to be this year's city partners because both have recently designated multiple city-owned parcels as affordable housing sites in response to more stringent state housing planning requirements. Staff and elected leaders in the two cities recognized the significant challenges their cities face in moving forward with denser, affordable housing communities and were enthusiastic about engaging student groups to propose potential routes to development of the selected sites. In the weeks following the final symposium, both cities invited student groups to present their proposals to Councilmembers and the community at public hearings held in City Hall (videos from Piedmont and Menlo Park).
Opening Remarks and Panel
The symposium began with opening remarks from Master of City Planning alum (Class of 2007) David Zisser, Assistant Deputy Director of California Department of Housing and Community Development, followed by a panel of planning and architecture alumni who had all taken the James R. Boyce Studio course. The speakers reflected on lessons learned during their time as students at the College of Environmental Design, and how they each have carried their experience forward into careers developing or designing affordable housing. The panel consisted of Max Heninger (Eden Housing) and Kevin Dumler (Jamboree Housing), Sally Lape (Leddy Maytum Stacy Architects), and Jacqueline Lin (David Baker Architects). The panel was moderated by Renee Chow, Dean of the College of Environmental Design.
Keynote
California State Assemblymember Buffy Wicks provided a keynote address. She reflected on her work as the Chair of the Assembly's Committee on Housing and Community Development, as well as the momentum behind pro-housing policies at both the state and local levels. "Saying 'no' to housing is no longer an option" she said, referring to historical resistance to housing development that has led to the state's current housing crisis. Lori O'Camb with the James R. Boyce Family Foundation then reflected briefly on the origins of the studio, and its intention to challenge students to innovate, design, and push the envelope to address housing's toughest problems.
Student Presentations
Six student teams presented proposals for housing developments on two potential sites: one spread across eight parking lots in downtown Menlo Park and one in Piedmont's mostly undeveloped Moraga Canyon. Both sites are city-owned and have been dedicated to affordable housing. However, neither city has determined the desired development program nor issued requests for development proposals yet, leaving students with considerable freedom to be creative in their ideas for future development. Student proposals were reviewed by a jury consisting of leading development, design, and planning professionals: Yakuh Askew with YA Studio, Cristina Rossi with David Baker Architects, Wayne Chen with the City of Mountain View, Joe Kirchofer with AvalonBay, Welton Jordan with EAH Housing, and Lisa Gutierrez with US Bank.
Highlighted below are the two proposals, selected by the jury, to win the 2023 Jame R. Boyce Affordable Housing competition: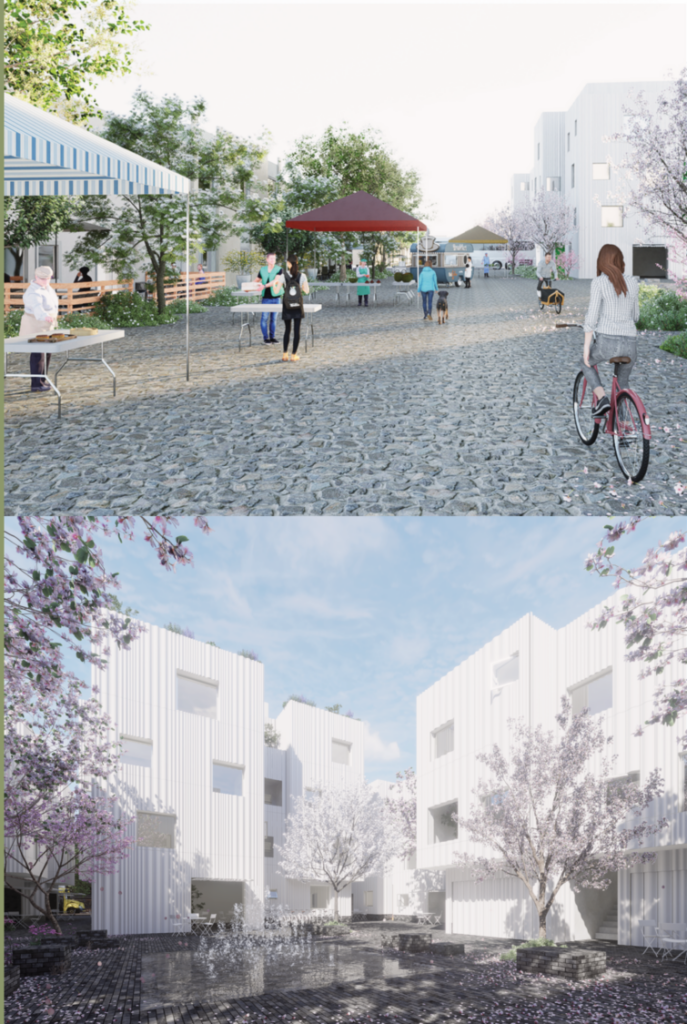 Team members: Jono Coles (MArch), Sophie Schneitz (MArch), Kate Ham (MCP), and Reena Zhang (MREDD)
The New Medium proposed bringing together medium-scale, mixed-income, and multigenerational living and outdoor public space to facilitate a vibrant, pedestrian-oriented, affordable downtown Menlo Park. The multi-phase master plan would develop the city-owned parking lots into 405 affordable apartments, 48 market-rate townhomes, a parking garage, a childcare center, and urban greenway. The development would seek to balance density and resident concerns, providing quality housing and public life without intrusion. This development is uniquely designed with an absence of corridors: by using single-stair circulation for the residential components, interiors are exposed to more sunlight and natural ventilation, and intentional outdoor spaces weave the domestic and the public. Additionally, this allows buildings to shrink, achieving a higher density at a lower cost and smaller footprint.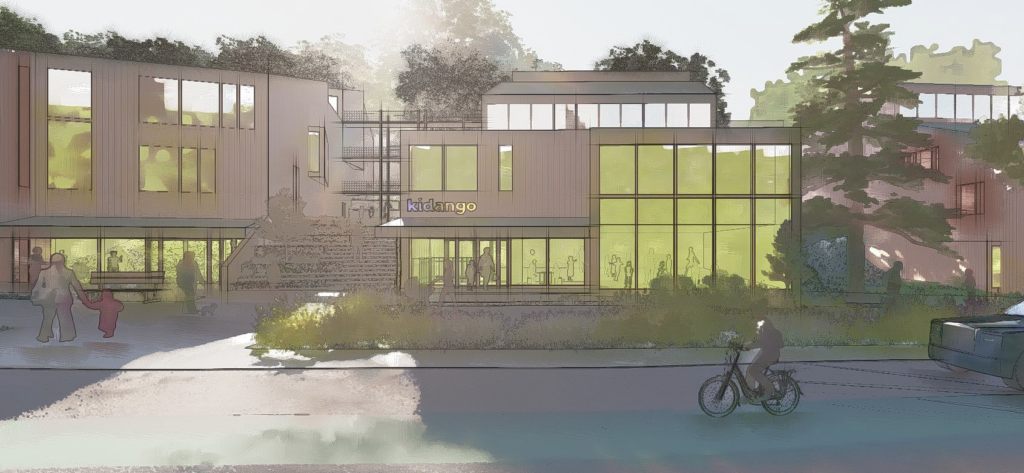 Team members: Brittaney Bluel (MArch), Sam Greenberg (MPA), Yizhuang (Todd) Liu (MArch), Snow Zhu (MCP)
Moraga Canyon proposed to develop a welcoming, functional, and beautiful community through adopting an "urban Sea Ranch" design while stitching together the North and South sides of Moraga Canyon. Moraga Canyon would meet the needs of, and create a sense of belonging for, new and existing Piedmont residents alike. The proposal includes Blair Park Apartments, 103 affordable, family-oriented units, and Bay Overlook Homes, 30 market-rate townhomes with sweeping views of the San Francisco Bay. Through partnerships with local organizations, Blair Park Apartments will provide comprehensive resident and childcare services.
Blog post authored by Terner Center Managing Director and Adjunct Professor in City and Regional Planning Ben Metcalf and Boyce Studio Students Holly Armstong (MCP,  2023) and Sam Greenberg (MPA, 2023). Co-instructors Tomás McKay and Daniel Simons of David Baker Architects and Claire Parisa of Red Stone Equity Partners joined Ben Metcalf in teaching the semester-long studio.
Share This Post: