School District Employee Housing in California
Published On August 14, 2018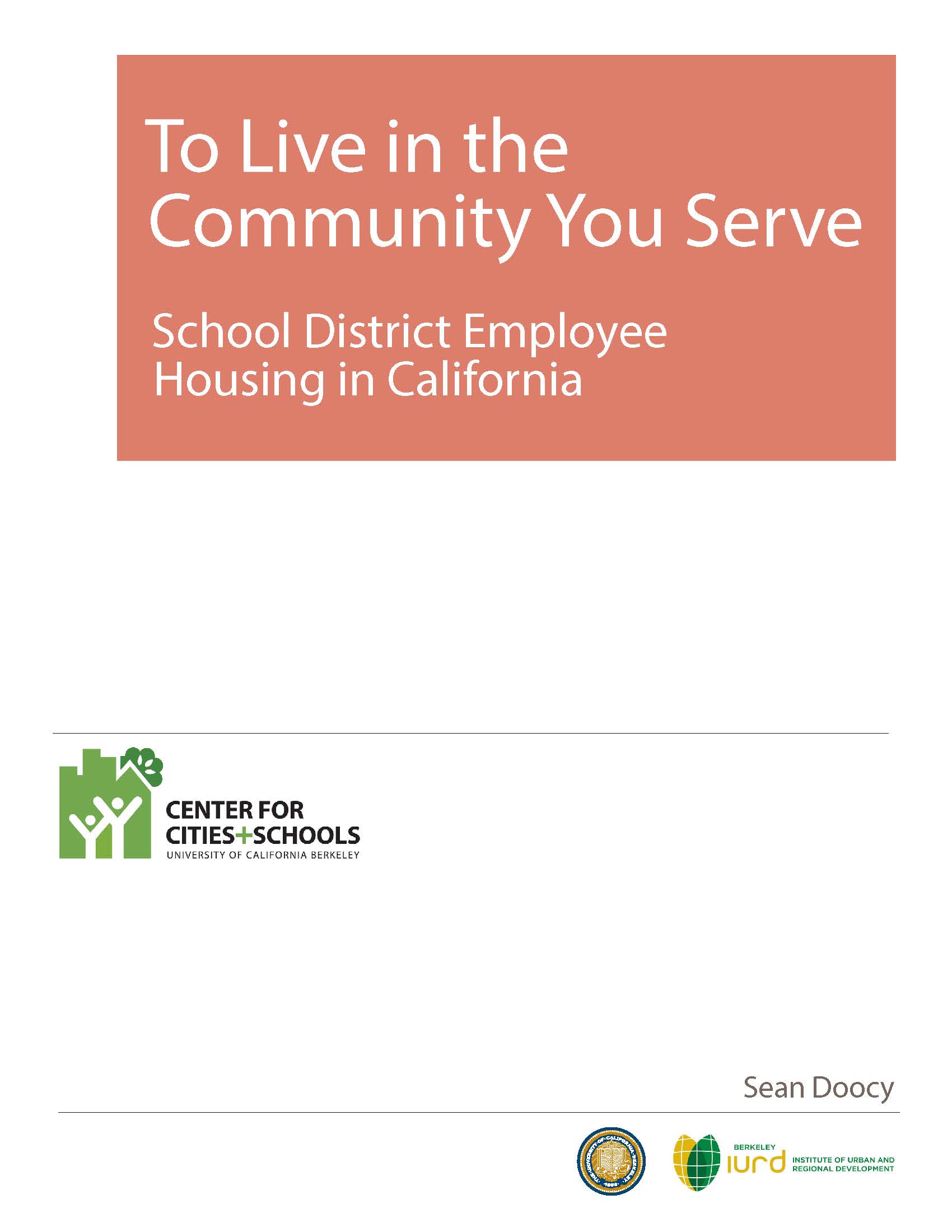 As part of our commitment to the education and professional development of UC Berkeley students, the Terner Center highlights exceptional student work that connects to our mission and research agenda. The analyses and policy proposals put forth in these projects may not be reflective of the official position of the Terner Center.
A Professional Report submitted in partial satisfaction of the requirements for the degree of Master of City Planning in the Department of City and Regional Planning of the University of California, Berkeley, May 2018. The full report is available here.
The research was supported by the Center for Cities + Schools and IURD
Author: Sean Doocy
In recent years in California, school district employee housing has emerged as a strategy for recruiting and retaining teachers and staff. Districts leaders have been asking a series of questions about this new typology: Do employees need or want this rental housing? How do we finance and develop employee housing? What technical hurdles stand in our way? This report helps address those concerns, detailing the current school district employee housing landscape and offering lessons from study of Berkeley Unified School District (BUSD).
Report Summary
Housing costs in California have risen dramatically in recent years, particularly in employment-rich coastal urban centers like the Bay Area, yet wages for public school teachers and other school district employees have remained stagnant. The average teacher's purchasing power in the for-sale and rental housing market has declined significantly in the past two decades, and especially in the past five years. This is a key factor driving high teacher turnover and teacher shortages in districts throughout California. In response, school districts have pursued and adopted a host of strategies to recruit and retain teachers and staff, with employee housing assistance recently emerging as the most prominent approach.
My report on school district employee housing in California details the current landscape for this emerging strategy, outlining how district housing can improve employee recruitment and retention. It offers insights from a study of Berkeley Unified School District's (BUSD) proposal to initiate a below market rate rental housing program for employees.
Housing incentive programs for school district employees fall into one of two categories: financial assistance for housing (e.g., down payment assistance, closing costs) or direct provision of employee housing (typically through new development of rental housing). Many states and cities across the country provide the former, with down payment assistance programs specifically targeting teachers. San Francisco and San Jose have programs of this sort. The San Francisco-based startup Landed also offers an innovative alternative approach to homeownership assistance for educators, leveraging private capital through a shared equity model to provide down payment assistance for educators looking to purchase a home.
Completed School District Employee Housing Projects
Photo Credits: Teachers Village: Scott Frances, Paul Rivera; Sage Park: Nico Marques
Homeownership assistance can play a crucial role for educators who might not otherwise be able to purchase in their district. Meanwhile, many more teachers and school district staff are not on a near-term path to homeownership, and are simply struggling to afford rising rents in or close to the cities where they work. This has precipitated a recent rise in the direct provision of below-market-rate rental housing for school district employees. Such projects are either driven by private developers—such as RBH Group's high-profile, recently-completed Teachers Village in Newark, New Jersey—or by districts themselves. In either case, the developer or the district will typically subsidize rents, offering units at a fixed percentage below market rate with the depth of the subsidy varying depending on the project. District-driven housing has become the preferred model in California, where districts are responding to the housing affordability crisis and high teacher turnover by partnering with developers to build below-market-rate employee housing, usually on surplus district property.
Recent California legislation from 2016 (SB-1413) and 2017 (AB-1157) has helped incentivize the production of district-owned employee housing. While a few district-driven housing projects had previously been completed (notably by Santa Clara Unified School District and Los Angeles Unified School District), in the wake of these recent bills, high-profile districts from San Francisco to Palo Alto to Mountain View have begun to seriously explore the option of developing employee housing on the underutilized properties in their portfolio.
Berkeley Unified School District is one such district. I worked with BUSD to conduct a study of their employees' current housing situations and needs, along with their potential interest in housing of this type. Leveraging a survey that we designed and administered, as well as an internal employee data set, my analysis shows that many BUSD employees need assistance with rental housing and that employees have a significant interest in the prospect of living in district-owned affordable rental housing. Specifically, I identify the following key takeaways:
78% of BUSD renter employees are experiencing financial pressures due to high housing costs
Only 30% of BUSD employees live in Berkeley, and their travel to work compounds the pressure they are experiencing from their housing situation
Housing costs and commute may both impact employee retention—69% of renters think the high cost of housing negatively impacts their long-term ability to stay at BUSD
74% of current renters would be interested in living in BUSD-owned employee housing
Drawing on this BUSD study and my broader review of this emerging housing solution, I offer a series of recommendations in my report for other districts interested in financing, developing, and implementing their own employee housing programs. Perhaps most importantly, I urge districts, developers, and nonprofit partners to get creative with their financing. Housing for school district employees is not traditional affordable housing, and as such cannot be financed through conventional means like the Low-Income Housing Tax Credit (LIHTC). A successful district housing project must target both middle-income teachers (typically making 80-120% of Area Median Income) and lower-income district staff (making less than 60% of AMI). LIHTC income restrictions mean it is not a flexible enough funding source for these projects on its own. It's time to think outside the box.
School district employee housing is poised to rise in prominence in California as the housing affordability crisis worsens and districts seek new and more effective ways to recruit and retain employees. Many of these projects are just getting off the ground, but the early results are promising: three years after Santa Clara Unified School District completed an employee housing project, turnover for teachers living in those units had fallen to 8%, compared to 24% teacher turnover for the district overall. As new districts enter the fray with their own proposed programs, it is critically important that they understand the current school district employee housing landscape and know how to engage with and learn from their employees. This report provides a starting point for both.
Share This Post: