ADUs for All: Breaking Down Barriers to Racial and Economic Equity in Accessory Dwelling Unit Construction
Published On August 4, 2022
Accessory dwelling units (ADUs) are an important and increasingly popular strategy for adding to the supply of housing in California, particularly by creating lower-cost units in single-family neighborhoods. Recent statewide legalization of ADUs has led to a rapid growth, but research has shown that ADUs are being built disproportionately in whiter and more affluent communities.
A new report co-authored by the Terner Center and the Center for Community Innovation looks at the barriers to ADU construction among low- and moderate-income BIPOC homeowners in California. ADUs for All: Breaking Down Barriers to Racial and Economic Equity in Accessory Dwelling Unit Construction presents findings from focus groups of California homeowners at various stages in the process of building an ADU and offers policy recommendations to address the challenges.
The focus groups and practitioner interviews conducted for the report highlighted that high costs and a lack of financing options, complicated contracting and permitting processes, and a perceived lack of support at the local level all have created barriers to building an ADU.
To facilitate more widespread and equitable ADU construction, the report recommends that policymakers should invest in building the capacity of existing community organizations and programs that provide homeowner education, outreach, and technical assistance. Local and state agencies should reduce fees and streamline permitting to reduce the cost and complexity of building an ADU. Cities and the state should also look for and share solutions to make it easier to bring unpermitted units up to code.
Read the full paper on our website here.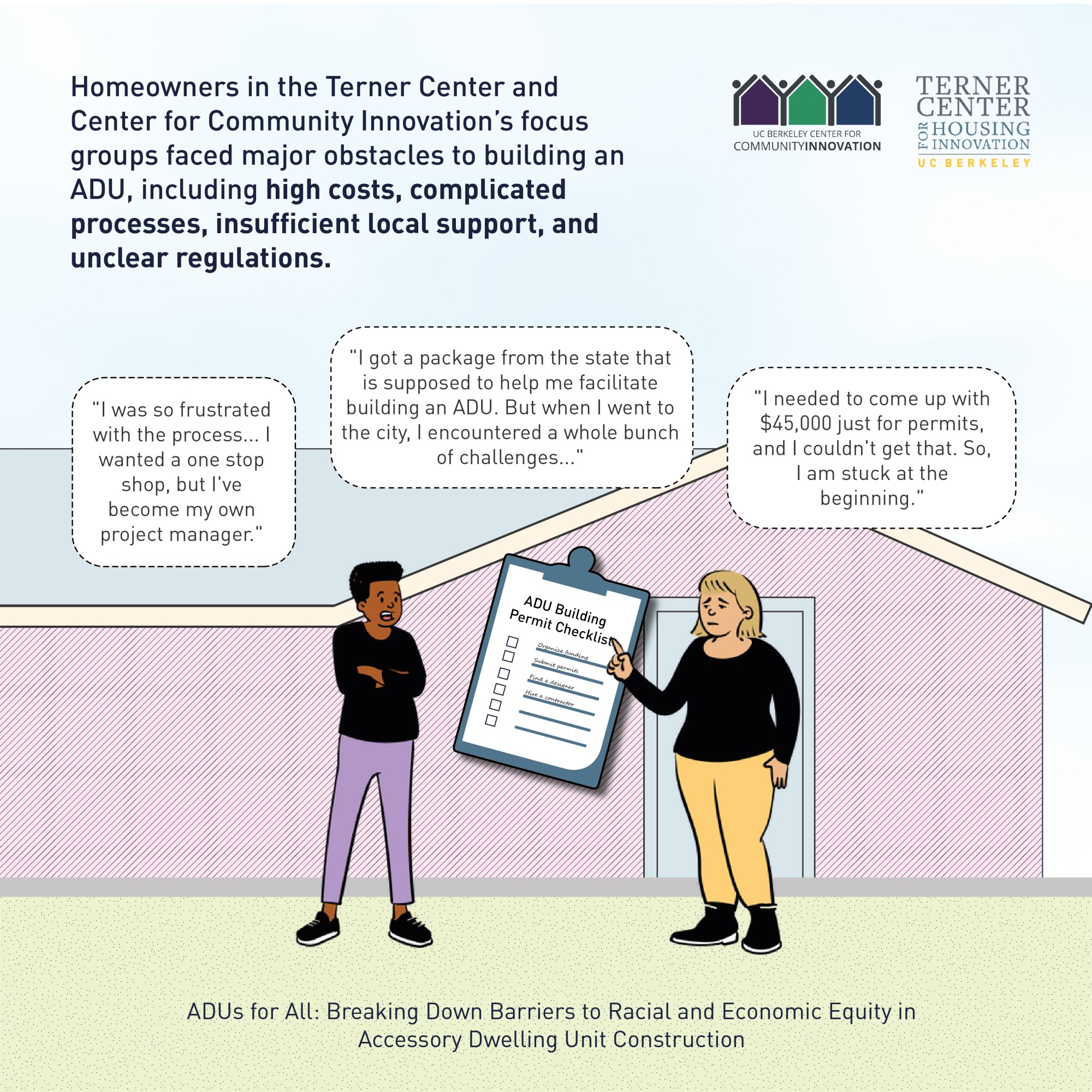 Share This Post: