Community Land Trusts and MH Advantage® – A New Approach to Affordable Homeownership
Published On June 3, 2021
As part of our commitment to the education and professional development of UC Berkeley students, the Terner Center highlights exceptional student work that connects to our mission and research agenda. 
This Client Report was submitted in partial satisfaction of the requirements for the degree of Master of City Planning in the Department of City and Regional Planning of the University of California, Berkeley, May 2021. Carolina Reid and Carol Galante served as reviewers. The analyses and policy proposals put forth in these projects may not be reflective of the views of the Terner Center.
Authors: Cali Slepin and Julian Tucker
As housing prices and the cost of living rise and wages remain stagnant, affordable homeownership continues to become further out of reach for many American families. Alternative models of homeownership like community land trusts (CLTs) offer potential solutions. For our Master of City Planning Capstone Project, we worked with the Housing Land Trust of Sonoma County to highlight their latest development, Jamie Lane, a five-unit, prefabricated development in Cotati, CA. The Jamie Lane pilot innovates the traditional CLT model in two main ways. First, it uses prefabricated housing to expedite the construction process and reduce building costs. Second, it leverages national partners and government at different levels to share in the cost and process challenges of funding the production of affordable housing. The project provides a framework for other CLTs seeking to build affordable homeownership in high-cost and disaster recovery areas.
The idea for Jamie Lane originated because of the unique set of challenges that Sonoma County faces. As with the rest of the state, years of underdevelopment and a steadily growing population have restricted housing supply, putting an upward pressure on for-sale and rental housing prices. However, Sonoma County faces additional specific challenges. In particular, the shift to remote work due to the COVID-19 pandemic has brought more people to Sonoma County and further increased competition for local homes. 
Additionally, since 2017, severe annual wildfires have destroyed thousands of residential structures, exacerbating supply constraints. Construction labor shortages are particularly acute in the county, as rebuilding efforts have heightened the demand for construction labor. The fires have also caused the county to be designated as a disaster-prone area, which has raised insurance rates and added uncertainty about whether homeowners will be able to secure insurance in the future.
These dynamics have created a high barrier to entry for families looking to live in Sonoma County, especially for lower-wage essential workers. The Housing Land Trust of Sonoma County (HLT) works to address this gap. Established in 2002, HLT is a nonprofit CLT that works throughout the county and provides homeownership opportunities to low- and moderate-income families. HLT developed the Jamie Lane model to leverage commitments from multiple levels of government and private partners to overcome the monetary and logistical issues faced in Sonoma. The model ties each aspect of the development process to a different stakeholder (Table 1) and will be built at an expedited timeline and an affordable rate, with the homes on track to be constructed this summer.
Table 1: Development Steps and Corresponding Stakeholders
| | | |
| --- | --- | --- |
| Stage | Stakeholder Level | Funding Source |
| Land | Local | A transit-oriented infill site acquired via donation from the City of Cotati |
| Entitlements | Local  | Funding from the City of Cotati and donated time and expertise from development partners |
| Funding | Regional | Transient Occupancy Tax (TOT) funding from the County of Sonoma's Community Development Commission |
| Site Work | State | Funding from the California Housing Finance Agency (CalHFA) through the purchase of affordability covenants and donated time and expertise from development partners |
| House | National | Prefabricated homes that comply with Fannie Mae's MH Advantage® specifications, making homebuyers eligible for Fannie Mae-backed mortgages |
Leveraging relationships and creative stacking of resources are key components to Jamie Lane's success. For example, HLT worked out an innovative financing solution with the California Housing Finance Agency to purchase the affordability covenant on the homes, since the agency was unable to lend directly towards homeownership construction. HLT also leveraged its existing relationships with local civil engineers and a longtime homebuilder to ensure a detail-oriented site planning and construction process that would avoid delays.
In addition, Jamie Lane's use of prefabricated homes certified by Fannie Mae's MH Advantage® program brings the development an array of benefits. First, it lowers the costs of construction as each home can be installed onsite within 24 hours. Second, the reduced on-site construction timeline also minimizes neighbors' concerns about noise and traffic from new development. Modern prefabricated homes can also be customized with specific features that can help to protect the structure against local disasters (i.e. fires, floods, earthquakes). Finally, homebuyers were able to access the full benefits of Fannie Mae financing, which gives them access to home mortgages at fair rates and helps make the process easier for lenders who are not used to working with manufactured homes. 
When completed, HLT will bring five new three-bedroom, two-bath homes with attached garages to Jamie Lane. Renew Now Homes is the MH Advantage® approved modular builder. HLT will also be completing the infrastructure and landscaping for the subdivision. The site is ideal for the City of Cotati, as it is transit-oriented, located close to Sonoma State University, and was already set aside for affordable housing development. The homes will be available for families making up to 120% AMI, with their resale limited to the value of the escalation of inflation. When a family is ready to move, HLT retains the right of first refusal and helps shepherd the sale.
Figure 1: Rendering of a Comparable Renew Now Home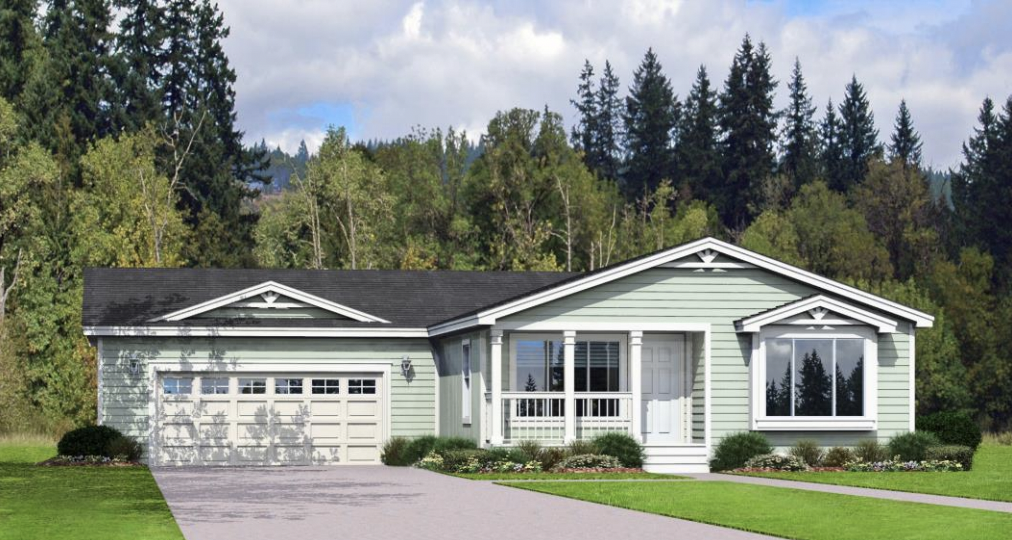 Jamie Lane serves as a model for prefabricated CLT development, one that can be used by other communities seeking to expand access to homeownership in high-cost, disaster recovery areas. Table 2 outlines the opportunities for innovation and collaboration as well as recommended practices for each stage of development.
Table 2: Opportunities and Needs for Model Replication
| | | |
| --- | --- | --- |
| Stage | Opportunities | Recommended Practices  |
| Land | Vacant land owned by cities | Availability of pad-ready sites in infill locations |
| Entitlements | Existing excitement and will to deliver around mission of affordable homeownership | CLT with existing relationships to pull team together |
| Funding | Ability to meet affordable homeownership and innovation goals | Stakeholders to align and agree with each others' funding requirements (ex. lien position)  |
| Site Work | Capacity to build  off of strong, existing relationships | Team with local experience, capability to stay in budget, and a commitment to minimizing change orders |
| House | Expedited production/delivery of housing supply in high-cost and disaster recovery areas | Manufacturer with experience funding, entitling, and delivering a prefabricated product |
| Local Advocacy | Involvement with local housing policy to make this model easier to approve and move forward | Local government that has the political will to pursue innovative housing solutions with a development-friendly sentiment |
To learn more about Jamie Lane and HLT, check out our Client Report for HLT here. Additional materials on the development will be posted on Fannie Mae's website here in the Affordable Housing Preservation section.  
Share This Post: