UC Berkeley Team Takes Home 2nd Place at 2022 HUD Innovation in Affordable Housing Competition
Published On April 28, 2022
Overview
On April 13, four graduate-level student teams from across the country presented their development proposals in front of a panel of six jurors at the 2022 Innovation in Affordable Housing (IAH) Student Design and Planning Competition. This year, Atlanta Housing was selected as the client and HUD challenged student teams to design a mixed-income and mixed-use development on the Civic Center site. Three of the 28 teams that submitted hailed from UC Berkeley. Of the four teams selected as finalists, two represented UC Berkeley (Teams "Oski"
and "Gold"). UC Berkeley Team Gold was awarded second place in the final.
About the Competition
Designed to encourage research and innovation in affordable housing, the competition tasked students to produce development proposals for the 13-acre Civic Center site in Atlanta—the largest site in the competition's history. In addition to affordable housing, Atlanta Housing called for students to make the site a cultural center and destination for the entirety of Atlanta and an exemplar of an environmentally sustainable, mixed-income, and mixed-use community. In early March, the four finalist teams visited the site and met with key stakeholders.
Team Oski's Project: Buttermilk Brooks
Team Oski consisted of Samuel Day (MREDD '22), Joseph Mutter (MREDD '22), Andrew Stasiuk (MREDD '22), Dylan Rodolf (Law '22), and Shiying Wang (MCP '22). Lydia Tan, lecturer with UC Berkeley's Master in Real Estate Development + Design program, served as the faculty advisor. Team Oski presented their vision for the site, called "Buttermilk Brooks." A high-density plan of 1,268 units and buildings up to 26 stories, Buttermilk Brooks embodied the team's ambitious vision of three main principles. First, to achieve "all-of-the-above" affordability, the project consists of rental and ownership units, 66 percent of which are restricted affordable. This ranges from permanent supportive housing to middle-income rental units and ownership townhomes. Second, the team emphasized the importance of future proofing the project. This includes building parking garages that were designed with exterior ramps that can be removed in the future to retrofit the garage into more residential units. Finally, Team Oski made sure to include sustainability throughout their project design with a proposed site-wide micro grid, sustainable vertical farming operation, and retention of existing trees to reduce the carbon footprint of construction.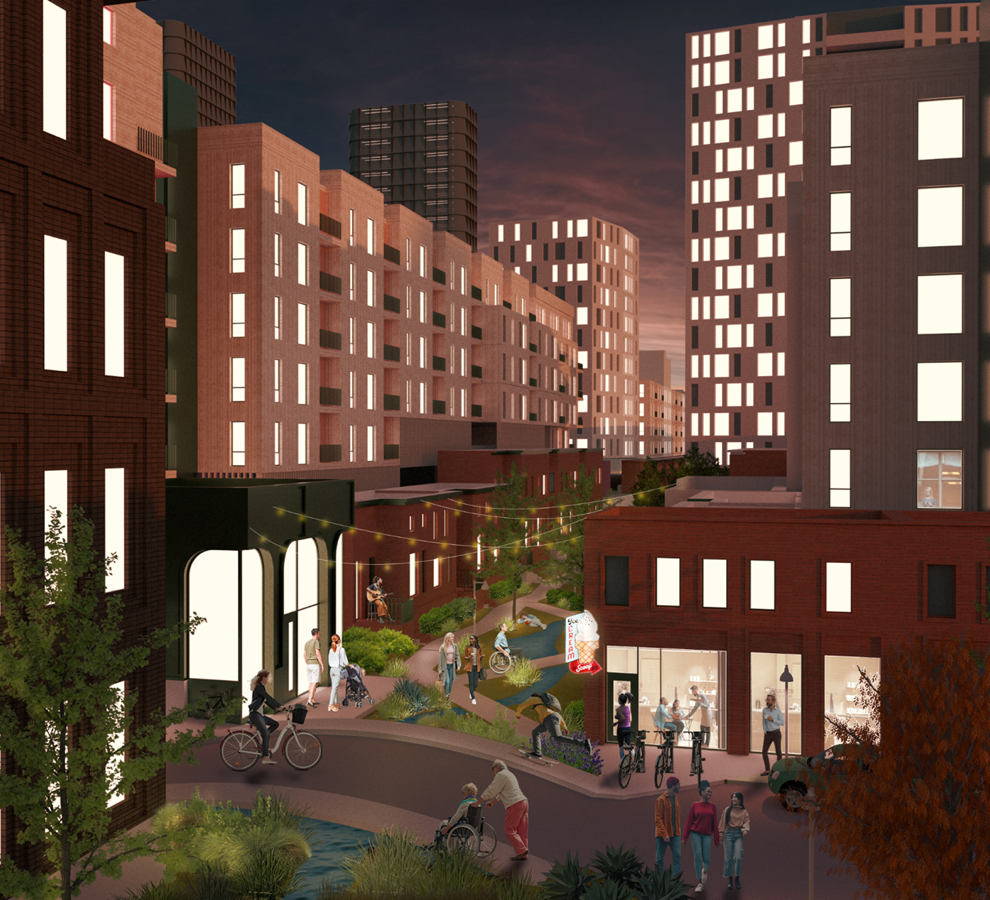 Team Gold's Project: Civic Oaks
Team Gold consisted of Miki Kobayashi (MCP '22), Brice Lockard (MREDD '22), Emiliano Farina (MREDD '22), Norris Cooper (MREDD '22), and James Chang (MBA '24). Claire Parisa, lecturer with UC Berkeley's Department of City and Regional Planning, served as faculty advisor. Team Gold presented their project called "Civic Oaks," which emphasized the existing community's input and needs, neighborhood-serving commercial spaces, and housing for a variety of different household types. This included ample green space throughout the site totaling about 50,000 square feet, a bike trail running through the site to Krog Street Market and Stone Mountain Trail, and building heights not exceeding eight stories. With 784 units, Civic Oaks accommodates housing types ranging from permanent supportive housing units to market-rate units and from rental to ownership housing options. Of particular focus on this site was the inclusion of 286 three-bedroom units, which are largely missing in the existing housing stock and were an expressed need from the community. Other aspects of the proposal include a Boys and Girls Club space and food entrepreneur incubator. Noted for its extensive community outreach, presentation, and financing, Team Gold won second place.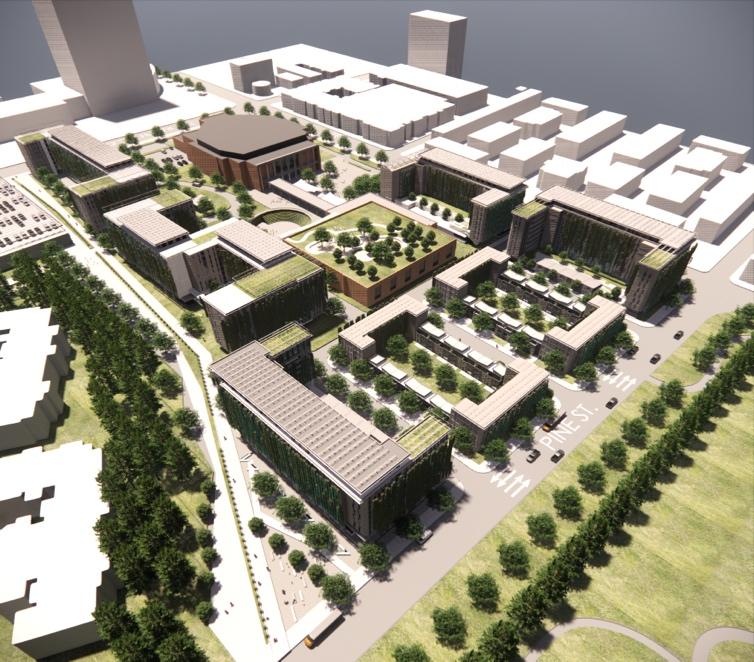 Summary blog post authored by Ben Metcalf and Miki Kobayashi.
Share This Post: