Past Event: UC Berkeley Graduate Students Presented at the 2020 Innovation in Affordable Housing Competition
Published On May 6, 2020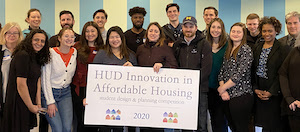 On April 16, a group of UC Berkeley graduate students virtually presented their concept for the 2020 Innovation in Affordable Housing (IAH) Student Design and Planning Competition, which invites teams of graduate students from schools throughout the U.S. to respond to a real-world housing problem and propose their ideas for addressing social, economic, environmental, design, financial, and construction issues.
The Santa Fe County Housing Authority (SFCHA), which acted as the client, challenged student teams to design a new mixed-use development for mixed-income residents on a site in Santa Fe, New Mexico.
The interdisciplinary group, which consisted of Mariela Herrick (City Planning '20), Meaghan Lyons (Architecture '20), Cali Slepin (City Planning '21), Dylan Westhoff (Real Estate Development and Design '20), and Cody Zeger (Public Policy '21), were finalists in the IAH competition. The team created an innovative affordable housing development plan and design that dealt with zoning requirements, local economic conditions, a feasible financing model, the built environment, and community needs.
Read the full story over on College of Environmental Design website here.
Share This Post: